in Health Professionals
By Nabeel Ibrahim
Published on 27/04/2019
An Appointment with Dr. Nasheeda Saeed, MMed (Internal Medicine)
Dr. Nasheeda Saeed always knew she wanted to be a doctor. After her A'Levels she went to Russia and Malaysia to pursue her medical education. Dr. Nasheeda now works as a consultant in Internal Medicine at ADK Hospital. We sat down and discussed her experiences and lessons she learned during her time in this field.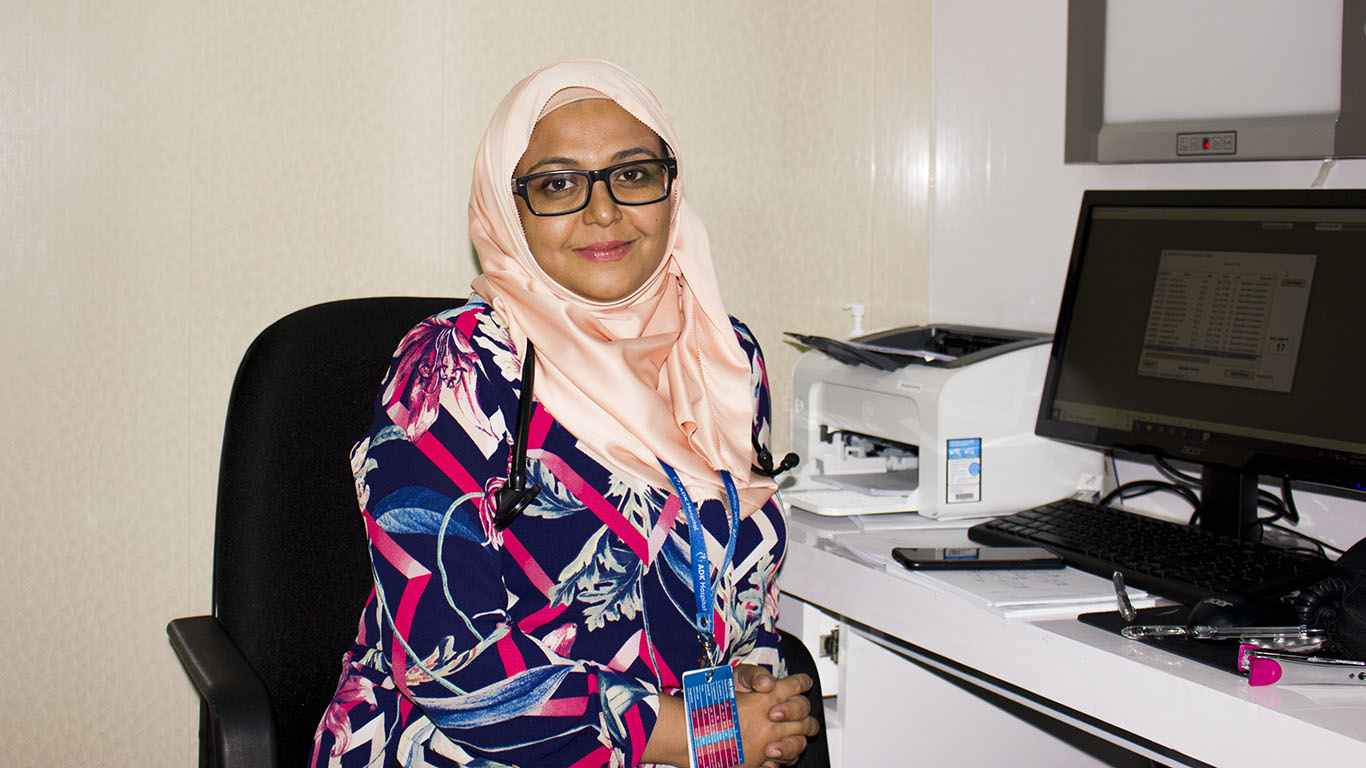 Nabeel Ibrahim
Published on: 27/04/2019
ADK Hospital
Internal Medicine
Advertisement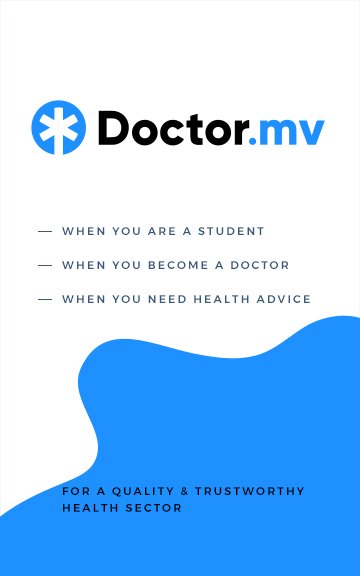 What was it that led you to become a Doctor of Internal Medicine? Tell us about your childhood and education.
I always had an interest in Medicine. After completing my education in SEC, I joined IGMH as a Clinical Assistant.
Back then, it is not as easy as these days to find opportunities to study abroad. Scholarships are very limited.
Due to lack of guidance, I made the mistake of not taking Physics while studying for GCE Advanced Levels in SEC. It was difficult to get accepted into a Medical school and secure a scholarship under the best of circumstances.
Finally, I took separate classes for Physics in MES, which resulted in more time being wasted prior to embarking on studying Medicine.
I think students these days are more aware on the requirements needed to join a Medical School, and tend to make sure that the required grounds are covered beforehand.
I completed my MBBS degree in 2008, from Nizhny Novgorod State Medical Academy (now called Privolzshky Research Medical University) in Russia. While studying the clinical subjects in the later years of the course, I gained an interest in the field of Internal Medicine.
I then completed my Internship year in Mysore, India. It was during the 3 months of Internal Medicine postings that it became clear to me that Internal Medicine was my calling.
Afterwards, I joined Indira Gandhi Memorial Hospital (IGMH) as a Medical Officer (MO) and worked there for 4 years. I worked in the Medical ward, seeing patients and medical referrals.
For my Postgraduate program, to study Internal Medicine, I was fortunate to get a seat at Universiti Kebangsaan Malaysia (National University of Malaysia) (UKM).
I chose UKM because they had a good, strong program. They had all the sub-specialties and they were well established. I asked my seniors for their opinion and they also recommended Malaysia. Plus, I had to think about my family and consider the quality of life for my kids and husband.
Of course, it was a very tough journey and I couldn't have done it without the unconditional support from my mother, my husband, my family and in-laws.
After completing "Doctor of Internal Medicine" programme in 2018 at the National university of Malaysia hospital, I have been working at ADK Hospital as a consultant in Internal Medicine for the past 6 months.
What is your role as a Doctor of Internal Medicine?
Internal Medicine is a very interesting subject. You can be of help in any specialty and we see and treat a wide range of cases.
I see patients in OPD everyday from Saturday to Thursday and I have in-patients, whom I admit during my on-call or from OPD. These patients can be from simple viral fevers to highly complicated cases requiring admission in Intensive care unit.
Furthermore, patients in other specialties like Gynecology, Orthopedics or Surgery might have issues related to Internal Medicine and I will get referrals for such cases.
During OPDs we spend a lot of time with the patient and getting to know him/her. It's not only inquiring about the symptoms and prescribing medication. We have to know their personal & social history, prior to be able to approach the correct diagnosis, required investigations and optimal treatment.
What do you love most about your job?
I look forward to meeting new people every day. It's a wonderful experience. Every day I meet so many different people with different personalities and unique stories.
In addition, patients come for follow-ups, sometimes after 2-3 months following treatment. When they tell me that they feel better and see the happiness on their face, it's very satisfying.
Of course, I have bad days sometimes. But what I love most about my job is meeting new people, especially elderly people who have a lot to tell me, and I have so much to learn from patients every day.
What does your routine look like?
When I first joined ADK Hospital, I had to do morning shifts on alternating weeks, and afternoon shifts on the other. And one doctor will do 17 hour on-call for 1 week at a stretch, followed by 7 hour on-calls for a week on the subsequent week, followed by some on-call free weeks depending on the number of specialists available.
After I joined, I proposed a change and have made it a 24-hour on-call with the support of the management. This makes it easier for the physician to give better care for the patients.
Depending on the on-call schedule, our morning (8 am - 3 pm) & afternoon (3 pm - 10 pm) shifts are arranged for the week.
During afternoon shift days, in the mornings, if there are any in-patients, we will do a round of those patients. Plus, if I have any documents I need to prepare for patients, I do them in the morning.
Also, I try my best to spend time with my family. Since I finish my afternoon duty at 10 pm, by the time I go home, my children are asleep. My son goes to school in the morning, so I can't spend time with him on my afternoon shift days. But, my daughter goes to school at 11:30 am, so I make sure I spend the morning with her. I would usually make time to be able to have a chat with my Husband at least 1 hour on week days and reserve Friday as a "Family Day".
Doctors always need to be updated. Hence, depending on the cases, I may need to see the latest evidence and research on it. It is an on-going process everyday. I too take the time to read, to keep myself updated.
If it is not an on-call day, my schedule is fixed depending on which shift I am. My sleep schedule is also fixed but I may get called anytime and may need to attend any admitted patients.
What is the biggest misconception or stereotype associated with being a Doctor?
A lot of times the public view us as only a doctor. They forget that we are also human being with a daily life as complicated as most people. We also have families and kids that need our attention and care.
We do more than OPDs, we also do have in-patients. Some other specialties take hours in procedures and in theatres. We take time communicating and having family meetings with the patient bystanders especially in complicated cases.
I know it is important, since the patient relies so much on us. I try my best to attend my patients and keep them happy but sometimes I too fail to achieve to the maximum satisfaction.
In your opinion, what do patients need to focus on in the field of Internal Medicine?
For people over 40 years, I would recommend to check their blood pressure, sugar level, cholesterol and other similar indicators regularly. I advice you to take a general screening, consult a doctor and follow their plan of action.
It is difficult to say what specific tests need to be done each year, since it all depends on what you have.
Even if you are below 40 years of age, if you are someone that has a family history, obesity or early symptoms of any illness, consult a physician and get evaluated.
In the case of symptoms, I noticed that people are immensely worried about cancer. People rely so much on google. It is important that you have the correct information regarding diseases.
Personally, I try to educate patients on their disease during my encounter with them but I guess this is not enough. There is so much more we need to do to create public awareness especially on common diseases, myths and misconceptions. I am hoping to do more.
Which area(s) of the Maldivian health industry needs to improve or change?
First thing as a doctor, is to make an effort to come at the required time. We also appreciate the patient's time.
However, in some instances, I noticed that even when I start on time, the patient gets upset if he/she has to wait too long outside the consultation room.
They have to wait because there are patients who need more explaining and talking to from the doctor regarding their cases. For example, a newly diagnosed diabetic patient will not know anything about the disease, treatment and the complications.
Secondly, communication with the patient needs to be improved.
In many cases, the patient does not adequate information regarding their disease. For example, a diabetic patient who has had the condition for 5-6 years do not know about their target blood sugars, HbA1C and complications.
From the doctor's side it is important to connect with the patient and provide good communication.
As for the industry, I believe having a more mature healthcare system that ensure maximum resource utilization across all levels within the system is paramount to ensuring optimal care can be made available to everyone within the given resource constraints of the nation.
We often find that time, and resources are wasted because the system does not guide patients through the proper channels.
What is the most important piece of advice you can give to future Doctors?
Firstly, some students think being a doctor is a glamorous job, but it's not like that.
This should be something you want to do with a lot of interest. When you come into the field, you will find out the challenges connected with the profession.
You don't finish studying once you are done with the medical school or postgraduate programme. It is an ongoing learning process and requires you to be keep yourself updated with new advances, research and guidelines.
Another important point is to make sure you know about the university you are attending. Check whether it is registered under the Maldivian Medical and Dental Council (MMDC) and Maldives Qualification Authority (MQA).
There is no need to study Medicine just to have the title. The beauty of Medicine it to fully understand and be a good doctor who can treat patients with a holistic approach.
The next important factor is deciding on a Medical School that will pave the way for your post graduate studies.
Back when we were students, information was not readily available, and the internet was not too common. But now, you have access. Personally, I would be glad to provide any information I have to any student.
Inquire thoroughly before you take a decision.
Who are 5 Doctors you look up to, find inspiring and is a mentor?
Dr. Ali Shafeeq
Dr. Ali Latheef
Dr. Ali Nazeem
Dr. Abdulla Niyaf
Late Dr. Ahmed Raazee